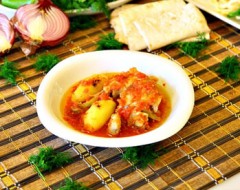 Chicken sauce
To do this you need to.
hen
onions
aubergine
potato
tomato
greens for decoration
Cut aubergine round, salt, and keep it up to get out of bitterness. Then wash aubergine  and fried in butter.
Wash the chicken and divide into the pieces. Cut the onion as a annular and fry. When the onion is "dead" fry chicken with a onions. Boiled the chicken about 5 minutes, threw out the water for fear of Salmonella I do it and then fry. Clean the potatoes, divide them into 4 parts. Add the chicken and fry 5 min. Then poured boiled water till the half of the pot, close the lid. Potatoes must be cooked. Clean the tomato shell and chop. Pour into a pot and cover about 5-10 min. On the top of the dish heap the ready aubergine with schistose and again close the lid. Dish must be cooked with weak heat. Shed chopped greens over the dish finely.